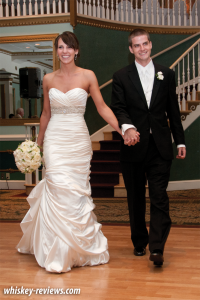 Ryan is weird.
Not in the creepy, outcast of society type way.  More in the enjoys activities typically enjoyed by people twice his age type way.  Despite being in his mid-twenties, Ryan loves whiskey and all of the associated experiences, though not the "let's get wasted!!!" mentality of his peers.  He has sampled well over two hundred whiskeys and has only found a handful that he didn't enjoy.
Aside from whiskey, Ryan loves spending time with his wife, Sarah, who is also a whiskey lover – a match made in heaven!  They are both die-hard Philadelphia Flyers fans, and will challenge anyone to a fight on the spot if they speak badly of their beloved team.
Although Ryan has ties to the spirits industry, his 8-5 job in marketing couldn't be further from booze – maybe that's why he needs it!  He certainly is no whiskey expert, so no need to call him out on any and all mistakes.
If you have any other questions, feel free to shoot him an e-mail at ryan@whiskey-reviews.com
-Ryan