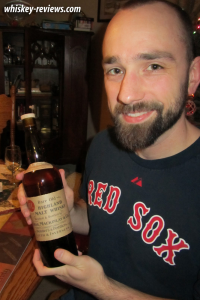 Bloggers and blog readers alike were deeply saddened when one of the more talented writers and critics announced his retirement.  Ryan from Value Whisky Reviews stated two weeks ago that he had decided to put away his figurative pen and cease his reviews and experiments.
Ryan's retirement was brief.  In fact, he has another blog already, focusing solely on bourbon (and maybe a little rye).  The name of this blog, you ask?  Why, it's Value Bourbon Reviews, of course!
Anybody familiar with Ryan's previous blog knows his acute sense of analyzing whiskey, and his natural ability to delve deep into the flavors, aromas, and textures within.  He never ties price or image to the true quality of the whiskey.  He will, however, tell you if the whiskey you are drinking is far overpriced for the quality in the bottle itself.
Aside from standard reviews that don't always sit well with the masses (something I respect Ryan for immensely), he performs whiskey experiments.  He tests ideas like adding water to whiskey and open bottle shelf-life.  If you read the comments, you will see that other bloggers agree that Ryan's curiosity and scientific approach to whiskey are incredibly valuable to the community.  I've had the pleasure of meeting Ryan in person, and he is a very interesting individual; very opinionated but also very open to learning and understanding others' viewpoints.
So what's in store for Value Bourbon Reviews?  Well, right now Ryan has an introductory post, as well as a re-visited review of Buffalo Trace.  He states pretty clearly that reviews won't be nearly as frequent as with his previous blog, which is just fine by me.  I'm certainly glad that Ryan is back, and I'm even more thrilled that he has found a way to enjoy whiskey and continue writing for all the other whiskey nerds on the internet – myself included!
-Ryan
Note: Since I posted this blog, Ryan has decided to put blogging on hold temporarily or even permanently.  Value Bourbon Reviews is no longer a live site.