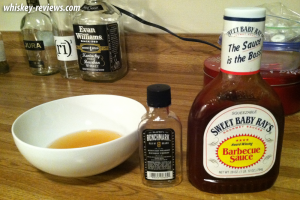 First and foremost – I'm not a chef.  In fact, I know very little about cooking and what separates a good dish from a bad dish, aside from my own personal tastes of course.  But, I do enjoy grilling, and in turn I like experimenting on the grill.
My wife and I had my sister over about a week ago, and I was tasked with preparing the food while they chit-chatted.  I had some chicken thawing, but no real plans on how to prepare it.  My sister actually suggested preparing bourbon chicken, and who am I to turn her down?
I started off by taking a 100 ML miniature of Benchmark (one of my favorites) and poured it into a bowl.  Next, I broke out my bottle of Sweet Baby Ray's barbeque sauce, and started squirting some into the bowl.  I happen to prefer S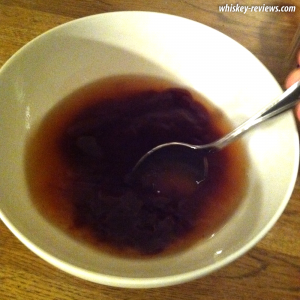 weet Baby Ray's as an all-around barbeque sauce, but I have no idea if other brands would blend better with bourbon.
Mixing the sauce and booze was probably the most difficult part, as the alcohol kept wanting to separate.  It look a little elbow grease, but I eventually got it to blend nicely.
I put the cuts of chicken onto the grill and let them heat up a little bit.  Once they were good and hot, I took a spoon and began globbing (that's the best verb I can come up with to describe it) the sauce onto the chicken.  Next, I took a grill brush and evened out the sauce across the pieces of chicken.  The bourbon did thin-out the sauce substantially, so I had to take special care not to lose too much of the sauce to the grill.
I noticed that just like regular barbeque sauce, bourbon sauce gets absorbed into the chicken pretty quickly while on the grill.  I ended up using nearly all of the sauce on three good-sized pieces of chicken, which was fine but somewhat unexpected.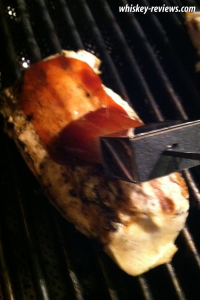 I panicked a little bit when I sampled some of the sauce by itself.  It was far too "high proof" and really didn't taste all that good.  I was nervous that I had ruined the chicken!
Luckily, when I took the chicken off the grill and served it, everything turned out great!  The chicken was moist because of all the sauce that it had absorbed over its time on the grill.  There was a little bite to the chicken, and the bourbon was definitely noticeable.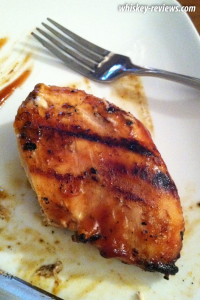 With a little bit of extra Sweet Baby Ray's on the side, this was a perfect piece of chicken!
My curiosity is piqued now about the combination between whiskey and food.  I am inspired to experiment more with various bourbons and various sauces.  If I could blindly chance upon a good recipe, who knows what I can do when I have a plan of attack?
-Ryan