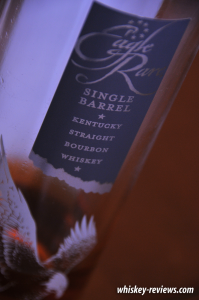 Ahh yes, the word that everybody loves to throw around; bourbon.  Whiskey drinkers around the world use this word, but often out of context.  Not all American whiskey is bourbon.  In fact, my next review will be Michter's Unblended American, a small batch whiskey distilled in bourbon country, but does not qualify as a bourbon.
So what's the difference?  And why does the allure of this word create such a fuss for whiskey experts?  And why should it matter to the casual whiskey drinker?
One of the great things about whiskey around the world is how highly regulated it is.  Of course, when we hear the word "regulation", our minds immediately shift to politics and whichever end of the spectrum the media has steered us to at this present time.  When it comes to whiskey, regulation is a good thing.  Because of the strict rules associated with distilling spirits, the consumer (you) get all the benefits of a high-quality end product.  If there was no regulation, you could just as well be drinking grain alcohol.
Whiskey can only be called "bourbon" when it meets a clear set of criteria.  If a distiller misses, or adds to, any of the procedures outlined below, the whiskey cannot be called bourbon.
Bourbon is whiskey produced from a fermented mash of not less than 51 percent corn.
The spirit reaches no more than 80% ABV in the final distillation, and can be put into the barrel at no more than 62.5% ABV.
The barrel must be made of new, charred oak, and the whiskey must stay in the barrel at least two years to be labeled straight whiskey; if it is aged less than four years, the age must be stated on the bottle (more than four years, and it's up to the distiller).
No coloring or flavoring may be added to the whiskey, and it must be bottled at a minimum of 40% ABV.
"But Ryan, I thought bourbon was from Kentucky!"  Yes, you'd be correct in stating that most bourbons are distilled in Kentucky.  But that is certainly not a requirement for a whiskey to be labeled bourbon.
"Okay, but what about Jack Daniel's?  Why is that a Tennessee whiskey and not a bourbon?"  Well first and foremost, kudos for not confusing Jack Daniel's with bourbon (as most whiskey novices do).  Jack Daniel's follows all of the steps outlined above, so why isn't it a bourbon?  It's because when they distill their whiskey, Jack Daniel's puts the liquid through an extra mellowing filtration process.  The "sugar maple charcoal" adds a little more sweetness to the flavor.  As stated above, even if you add something extra to the process, your whiskey cannot be called a bourbon.
Despite the strict rules and regulations, bourbon can vary from brand to brand, or even bottle to bottle.  There's plenty of variety to discover, and it's comforting for me to know that the word "bourbon" on my bottle ensures a high-quality whiskey inside.
-Ryan