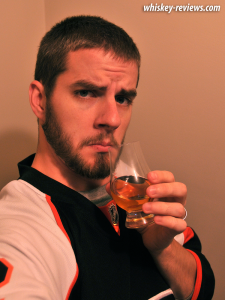 Profiling is wrong.  Especially when it's done by age.
Admittedly, I understand that I am not the typical whiskey drinker.  I'm in my mid-twenties, and my typical street clothes involve some kind of Philadelphia Flyers apparel.  Surely I wouldn't enjoy two fingers of Knob Creek, let alone know anything about the brand!  Yet, that's the impression that I get from time to time.
Just two weeks ago, I was shopping for my wife's birthday.  Like me, she is a huge fan of whiskey – Scotch specifically.  I went to the local state store and was browsing the Scotch section.  I picked out a Macallan Fine Oak 10 Year Old and a Glenfiddich 12 Year Old.  When I got to the check-out counter, I was asked by the clerk if these were gifts.  Okay, so they were gifts…for my wife…that I would be enjoying with her.  Needless to say, his question had me thinking that he had assumed I knew nothing about what I was buying and was simply doing something nice for a friend.
Recently at Whiskey Fest Philadelphia, I noticed a similar pattern of profiling.  I went with my dad, who fits the demographic of a whiskey conniseour.  However, I must point out that he is not a big fan of Scotch – more of a bourbon man.  When we visited the booths of brands like Balvenie and Glenmorangie, I quickly noticed that I would ask the questions, and the vendors would look my dad in the eye when they answered.  How rude, I thought!
I suppose I'm a bit idealistic to think that this type of behavior wouldn't be the norm.  Then again, as a businessman I sort of see where they're coming from.  From a numbers point of view, I'm not the money-maker for the state store employee or the vendor representative.  Either way, it's tough being profiled.
-Ryan