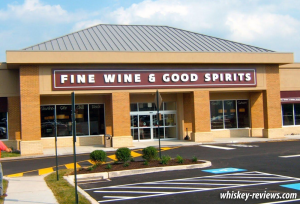 Buying whiskey should be easy, right?  Not in Pennsylvania.
As many of my fellow Pennsylvanians know, the state stores where you can buy your booze aren't all they're cracked up to be.  These government-run liquor stores are often cold establishments, and I'm not talking about the temperature.  The employees are less than helpful and the selection is limited and often difficult to scan.
For those of you who aren't following me, Pennsylvania is what is known as a "control state".  This means that the wine and spirits stores in Pennsylvania are run by the state government, from pricing to logistics to taxes to hiring/firing.  Now, why would the government want to run these stores, when they could privatize and let somebody else worry about this?  Frankly speaking, it's because we're stuck in a faulty system run by unions that the popular vote just can't break.  According to a blog written by Whisky Advocate's Lew Bryson, the PLCB (Pennsylvania Liquor Control Board) isn't even worried about being profitable.  In fact, over half of these stores are not profitable!
So let's talk about service for a moment.  As a disclaimer, I will point out that I am not anti-government.  That being said, it's no secret that your average, hourly government employee typically won't go out of their way to help you.  I wrote a blog post called Whiskey Profiling about a month back about my issues with state store employees.  Just the other day, another incident occurred that really irked me.  I went to the store right across the street from where I live, and was browsing the Scotch section.  A woman walked out of the office (which was occupied by about three other people likely not getting much done…).  I said hello to her and she kind of shrugged me off.  She proceeded to walk right past me and ask two other (older) customers if they needed any assistance.  I was planning on purchasing well over $100 in whiskey for my wife for Christmas, but left the store in disgust at her blatant disregard and disrespect toward me.
A separate set of incidents strengthen my argument further.  While at Whiskey Fest, I tried a Canadian whisky called Forty Creek.  After speaking with the master distiller, he assured me that his brand was available in the state.  A few days later, I went to a state store down the road from me.  I  looked on the shelf and couldn't find Forty Creek.  In the check-out line, I asked the clerk if they had any or could special order it for me.  He looked at me like a deer in headlights as if he had never even heard of Canadian whisky.  He told me to check with the guys in the office.  I walked up to the office and found two men sitting at a computer and asked if they could look into this whisky for me.  They hardly looked up at me and didn't smile or engage me in conversation despite my efforts to be polite and friendly.  They said they could bring it in from another store about 15 minutes down the road.  They told me it would be about four days.
Let me stop right there.  They were going to special order a $25 bottle of whisky for me from a store 15 minutes away, and it was going to take them four days!  I reluctantly accepted and gave them my name and phone number.  Four days passed without a call, and about 10 days after the initial store visit, my wife called the store to check on their progress.  Not only did they not know anything about Forty Creek, they did not have my name or phone number documented anywhere!  My wife gave them my information again, and they gave the same BS answers about a four day lead time.  Well, I still have yet to receive a phone call and that was about two months ago.
Needless to say, there are a number of issues with Pennsylvania's treatment of its liquor stores; problems that a new logo and shelf set-up can't solve.  Nobody is happy about any of this except for the state raking in the taxes, and the worthless cashiers and managers keeping their jobs despite their sub-par performance and know-how.  Let's follow in the trends of the 21st century and privatize before people get even more fed up and look elsewhere (as if they're not already).
-Ryan