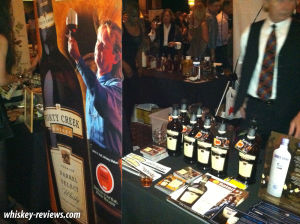 What a memorable night.  Stolen bottles, a World Series MVP, and Occupy Philly.  And then there was Whiskey Fest!
2011 marked my first Whiskey Fest, and it certainly won't be my last.  My whiskey mentor (AKA my dad) offered to bring me along a couple months back when a contact of his gave him a couple of free tickets.  I certainly couldn't pass up the opportunity as most of the whiskeys available to try are offerings I couldn't rationally purchase (without my wife wringing my neck of course).  After a long, traffic-riddled drive to Philadelphia from the suburbs, we looked up at the Crystal Tea Room from the street and noticed the excruciatingly long line.  This was going to suck.
We found parking, and made our way to the building.  We took the elevator up and walked to the back of what must have been a 300 person line.  Out of nowhere, a woman spotted my dad and told us that we didn't have to wait in line.  When I reached out to shake her hand, she instead handed me a bracelet and ushered me to the front of the line.  I liked where the night was taking me.
We made our way upstairs, and spent a few minutes mingling with my dad's contacts.  [Full disclosure – my dad has been in the spirits business for, well, before I was born.  He knows the business extremely well, and in turn, knows everybody else in the business.  This was his first year not exhibiting at the show, but we still had to make the rounds.]  Then the fun began.
Whiskey Fest is just like any other trade show, where tables are set-up, and representatives tell you a little more about their products.  You can very quickly and easily determine who works for the company and who is a hired model; not just by their appearance, but by their knowledge and comfort level with the product(s).  There is also the clear difference between the big guys who shell out a fortune to be seen in big ways, and the little guys who have not much more than a tablecloth and a few bottles.
I made it a point to only try whiskeys that I had not previously tried.  This proved to be much easier than anticipated, as the selection at Whiskey Fest was very broad.  Below is the list of whiskeys I was fortunate enough to sample last night.  I tried a few rums and spiced whiskeys (yuck!), but decided not to list them here.
Maker's 46
Laphroaig Quartercask
Glenfiddich 21 Year Old
Sam Houston American Straight Whiskey
Johnnie Walker Double Black
Isle of Jura Prophecy Single Malt Whisky
Samaroli Evolution 2011
Samaroli Tomintoul 1967
Samaroli Glenburgie 1989
So you're probably wondering what the first sentence of this blog post was all about.  The events listed actually occurred in sequential order, and all followed my conclusion of sampling of whiskey.  Once we were all done mingling and tasting, we headed back to one of the booths that my dad had the most contacts in.  [Full disclosure – he used to work for this company and is still friendly with everyone present at the show last night.]
We were all standing around talking, when my dad noticed somebody had just swiped a bottle from one of the tables and walked away.  One of the guys in our group, who happened to be a master distiller and the size of a truck, spotted the thief, ran after him, and retrieved the bottle pretty easily.  He found it unbelievable, as did we, that the bottle burglar decided to steal a $25 whiskey when he could have walked two tables down and stolen a $250 bottle.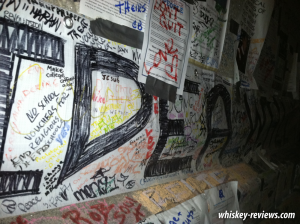 Almost immediately following this incident, I notice a very tall, very skinny man walking up to the table we were behind.  It was none other than Cole Hamels.  Surprisingly, nobody was following him or pestering him for autographs and pictures.  I have met a decent amount of athletes and celebrities in my life, and do my best not to make a big deal or have them go out of their way.  I walked up to him, and simply asked for a handshake and said it was a pleasure to meet him.  Of course, after I discreetly did my thing, the masses came out asking for more than a handshake.  Oh well…
The last bit of fun occurred as we were making our way back to the car.  In some bizarre turn of events, we ended up in the subway system and under City Hall.  Of course, we wound up right in the middle of Occupy Philly.  For those of you that don't know, protesters have been camping (literally) at City Hall in Philadelphia for about a month and a half.  I'm still not entirely sure what they're protesting, but it was interesting to listen to them and be in the middle of my generation's form of 60's protests.
All in all, it was a great night.  I got to try and learn about a huge number of great whiskeys.  I will surely be buying one or two of the above-mentioned expressions and reviewing in the future.  Can't wait until next year.
-Ryan