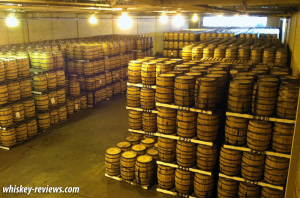 I didn't really know what to expect driving into Fredericksburg, VA.  I guess I half-expected a backwoods, rural area with a general store and dirt roads.  Contrary to my ignorance, Fredericksburg is a very modern town, with just about any type of restaurant or store you could possibly want to visit.
I walked into the local ABC store, Virginia's version of "Fine Wine & Good Spirits" – Pennsylvania's name for all of its state stores.  The sales staff there were incredibly friendly and eager to help, a welcomed change from what I was used to in my native state.  I told one of the workers that I was looking for a good bourbon, and he didn't hesitate to point me in the direction of his hometown favorites; the A. Smith Bowman collection (the A. Smith Bowman distillery would be what I would be visiting the next day).  I perused the rest of the vast inventory, and went on my way.
The next day, I ventured over to the distillery around noon.  The building looked very large, but there wasn't a recognizable "main" doorway.  After a little confusion, I called the number on a pamphlet I had received at Whiskey Fest, and a woman answered.  She told me to meet her at the door next to the fire hydrants.  I walked over and she brought me inside to a very spacious room with very little in it.  She told me that they were renovating the distillery, and that many of the offices would be located in this first room.
As I walked across the large room, I was greeted by A. Smith Bowman's master distiller, the one and only Truman Cox.  I had met Truman at Whiskey Fest just a month previously.  When you speak to him for the first time, you will be amazed at just how knowledgeable he is.  Yet, he is incredibly down to earth, approachable, and welcomes any and all questions about the distillery, their processes, and whiskey itself.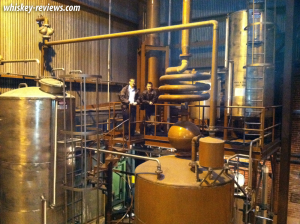 He immediately apologized that he would have to give me the abridged version of the tour.  The distillery was in the middle of their winter distillation period; a two week process that only occurs twice a year.  Clearly they were more busy than usual, and it certainly wasn't my place to interrupt any of their work.
He brought me over to, what he called, the "whiskey museum".  It was in the far corner of the first room with a series of machinery used in the process of distillation.  He explained each one in plain English, so even a novice like myself could understand.
Next, we walked over to another vast room where the whiskey is aged.  The aroma in that room was the most wonderful thing I had ever breathed into my lungs.  It's truly a terrific atmosphere, and it really feels like the whiskey is coming to life right in front of you.  Thousands of barrels are warehoused in this room, mostly Virginia Gentleman but also the rest of the A. Smith Bowman collection.
As we made our way to the room "where the magic happens", I asked Truman how he became a master distiller.  He explained to me that he had been a chemist at the Buffalo Trace Distillery previously.  He learned the process of distilling whiskey and other spirits, and really got to know the machinery and the subtleties that make whiskey so great.  When I asked him how he uses chemistry as a master distiller, he sort of shrugged and told me (and I'm paraphrasing here) that the human tongue along with the brain are hundreds if not thousands of times more accurate to taste and quality than any chemical reactions or use of science.  He says that everything is taste-tested rather than put in beakers and studied.  I thought that was incredibly interesting.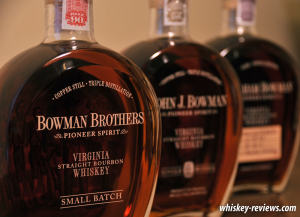 We reached the distillation room, where a giant copper still named Mary was heating up and starting the process of making bourbon.  Truman told me that they named the still Mary because that was the name of the real-life mother of the Bowman brothers, for whom their collection of whiskeys are named.
He then brought me into the room where the spirit is put into barrels, and finally into the room where the staff at A. Smith Bowman distillery hand-bottle each bottle that goes up onto the shelves.  From start to finish, the people at this distillery are what make this whiskey.  Extreme care is taken in all facets of the process, and ensure that you will be getting a high-quality product each and every time you buy a bottle of their bourbon.  Of course, I couldn't help myself from purchasing a few souvenirs of my own, each signed by Truman himself.
My trip to the A. Smith Bowman distillery was an unforgettable experience.  I hope to someday (soon) make it down there again to see more of the distillery and learn more about who they are and what they do.
-Ryan
Update: Truman Cox passed away on February 9, 2013.  You can read my post about him here.