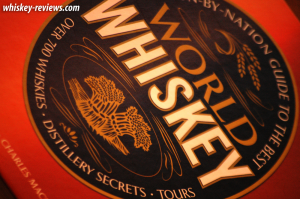 Editor-in-Chief: Charles MacLean
Written by: Dave Broom, Tom Bruce-Gardyne, Ian Buxton, Charles MacLean, Peter Mulryan, Hans Offringa, Gavin D. Smith
Retail Price: $25.00
Published: October 2009
Here's a little deviation from the usual Wednesday post – a book review!
Typically I'm forced by my day job in marketing to spend much of my time reading business books.  While I do enjoy learning the skills of my trade, they're often rather dull and very few of them have pretty pictures to accompany the text.
Being (relatively) new to whiskey, I decided to pick up World Whiskey, a "nation-by-nation guide to the best".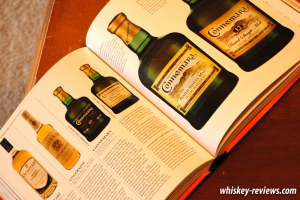 The first thing I will tell you is this is not a book of reviews.  If you're looking to gain some insight into the quality of your favorite whiskey, or want to learn what an expert thinks of the highest rated whiskey in the world, go out and buy a copy of Jim Murray's Whiskey Bible.  This book differs in that it is more of a historical record of distilleries, brands, and the art of distillation.  There are reviews alongside the 700+ whiskeys within, but they are brief and objective with no scores attached.
The book begins by introducing the world of whiskey in plain English for both the novice and the connoisseur.  Next, it focuses on the various countries of origin, beginning appropriately with Scotland.  This section takes up roughly half the book, and rightly so since the overwhelming majority of the world's greatest drink comes from Scotland.  Along with brand profiles are whiskey tour guidelines for the various regions of Scotland, as well as featured distilleries, including Laphroaig, Macallan, and Talisker.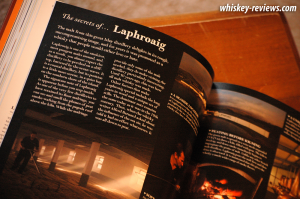 Next, the book ventures on to Ireland, then the United States, Canada, Japan, and a section aptly named "Rest of the World".  Other featured distilleries are Bushmills, Midleton, Jack Daniel's, Maker's Mark, and Yamazaki.  There's also a Kentucky tour reference guide which I am more and more thinking about using in the not-so-distant future.
What I have really enjoyed about this book thus far is the objective statement of facts across the board.  In an industry that is highly opinionated (you are reading a whiskey review blog, by the way), it's nice to see a publisher sit back and present the facts without worrying about their own, or the reader's, opinion.
To me, this book has become vital as a reference when I chance upon a new whiskey and want to learn a little more about the history behind it.  I would strongly suggest purchasing this to anyone who enjoys learning more about aqua vitae.
-Ryan