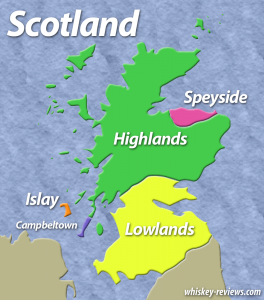 Two weeks ago, we got a little refresher course on the history of Scotch.  This time, we'll be focusing on the geography of Scotland and how it affects the whisky in your bottle.
Scotland is broken up into five main segments; Highlands, Lowlands, Speyside, Islay, and Campbeltown.  Each of these areas carry their own traditions of distilling whisky and, appropriately, create their own unique tastes.
Highlands
Let's start with the largest area and work our way down.  Whiskies from the Highlands region include Glenmorangie, the Dalmore, the Macallan, and Dalwhinnie.  These whiskies are the most even-tempered of Scotland; not too peaty, florally, soft, or intense.  Most distilleries in this region are near the coast, yet do not have the sea-inspired flavors of Islay.
The area appropriately named "Islands" is a subset of the Highlands region, and does not necessarily follow the same properties as its inland brothers.  These whiskies include the famous Highland Park, the complex Talisker, and the various Jura expressions, each of which have a unique and flavorful taste.
Lowlands
The Lowlands region of Scotland is the most densely populated area.  Once the site of numerous distilleries mass-producing whisky, there are only three remaining; Glenkinchie, Auchentoshan, and Bladnoch.  These whiskies vary immensely from the Highlands whiskies from the north.  They are typically much lighter in character, mostly because they are (almost) all triple distilled.  They may also have more of a florally/fruity flavor than other Scotches.
Speyside
Despite its odd location and relatively small size, Speyside has the largest number of distilleries and are most popular, at least among American consumers.  Brands include the Glenlivet, the Balvenie, Glenfiddich, and Tamdhu.  In fact, the Glenfiddich distillery alone produces 10,000,000 liters of spirit every year!  These whiskies are typically very woody (oak-heavy) and are known for their high-quality and accessibility.
Islay
If accessibility is your thing, Islay is not the place to start.  These are typically the most difficult whiskies for new drinkers to appreciate.  Because the land is covered in peat, the whiskies of this island are heavily influenced by this flavor.  Combined with the crashing waves of the Atlantic Ocean, some of which actually reaches the warehouses where the whisky is aged, these Scotches have strong, robust flavors.  Brands from this island include Ardbeg, Laphroaig, Bowmore, and Bunnahabhain.
Campbeltown
The smallest region recognized by the Scotch Whisky Association is Campbeltown.  Its three remaining distilleries are Glen Scotia, Springbank, and Glengyle.  Contrary to its influence today, Campbeltown used to host the largest number of distilleries in Scotland at the beginning of the 20th century.  Poor choices in production schedules and marketing led to its demise as the leader, and it now hangs by a thread as a producer of whisky in the southwest.
Sick of geography yet?  Me too.  Next time we'll focus on single malt Scotch versus blended (or vatted).  Class dismissed!
-Ryan