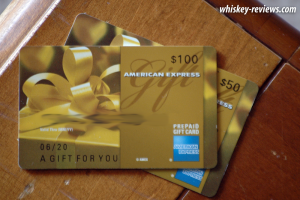 I recently came into some money . . . sort of.  In reality, I ran a successful promotion at work and was rewarded with $150 in AMEX gift cards.
Now, anybody who knows me knows that I'm frugal – not cheap, mind you.  The bulk of my whiskey collection over the years have been gifted to me by friends, family, and most often, my wife.  I seldom pick up a bottle over $35 on a whim, and I'm frequently the guy in the liquor store with two bottles in hand spending a half hour trying to decide between them.  Despite my loving relationship with whiskey, I find myself feeling guilty spending a lot of money on something that can be consumed and forgotten so quickly.
This $150 is my excuse to be irresponsible and make a whiskey purchase that I wouldn't otherwise make.  But to make things interesting, I want that purchase decision to come from you, the reader.
For the next week or so, I will be collecting ideas via comments on this post, mentions on Twitter, and comments on the Whiskey-Reviews Facebook page.  Here are the "rules" of what I am looking for:
It must be a whiskey I have never tried before (I have tried many more whiskeys than what are on this site).
It must be available in Pennsylvania, although if I can find it in Delaware I'll make the trip.
It must fit into the budget of $150.  If there are more than one whiskey that you think I should try while fitting into the budget, that works as well!
So, start choosing!  I'm very excited to see what my readers come up with!
-Ryan