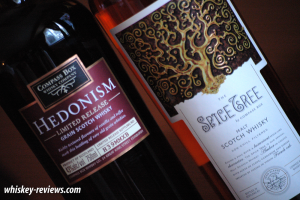 About a week and a half ago, I wrote a post asking you to Choose My Next Whiskey.  I had $150 in AMEX gift cards to use, and wanted to get your opinion on how I should use them.  You guys had some great suggestions:
Port Charlotte PC9
Highland Park 21 Year Old
Jameson 18 Year Old
Kilchoman Summer 2010
Penderyn
Compass Box Hedonism
Bleu Sky Rye
Ultimately, I chose to go with Hedonism, as I had already experienced other Compass Box expressions (Peat Monster and Oak Cross).  I had a little bit of money left over, so I picked up another member of the family – Spice Tree.
Overall, I'm very happy with my decision, and would like to thank everyone who commented with suggestions.  Look for my reviews soon!
-Ryan