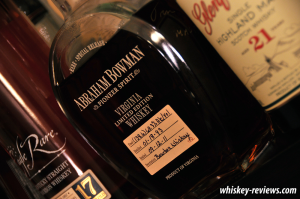 All whiskey novices step aside – this post is about the potency of the world's greatest drink.
To the inexperienced, a high proof whiskey doesn't taste like much more than alcohol.  But, to the well-trained drinker, a high proof can mean exponentially more flavor than the standard 40 or 46 ABV.
When I talk about high proof whiskeys, I mean barrel proof (or cask strength) expressions such as George T. Stagg, Glenlivet Nàdurra, and Abraham Bowman.  These whiskeys are taken straight out of the barrel keeping its natural alcohol content intact.
So what's the difference between these whiskeys and something like Benchmark or Jack Daniel's?  Well, whiskeys like that are taken out of the barrel, and after several other processes, cut with water to reach the desired proof.  This is totally fine and an accepted method – in fact most whiskeys follow this process.  The issue with it is that water . . . well, waters down the whiskey and eliminates some of the flavor.  So what may taste like pure rubbing alcohol in cask strength expressions actually has more whiskey flavor than the average drink.
I admit that I don't always find myself drinking barrel proof whiskeys.  First of all, they are often much more expensive largely because the distillers get less yield out of each barrel that way (do the math) but also because they typically bottle the higher quality barrels this way.  It's also not always easy to drink something that's over sixty percent alcohol – if you're responsible it can cut down your quantity of drinks in a night dramatically.
What's your favorite cask-strength whiskey?  Do you find that you get more flavor out of it, or does it burn the whole way down?
-Ryan