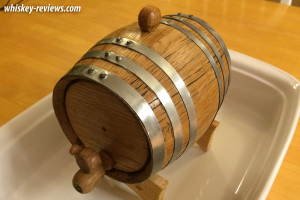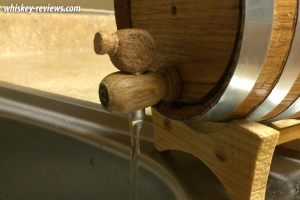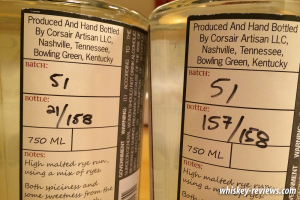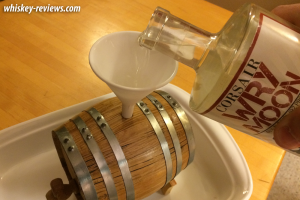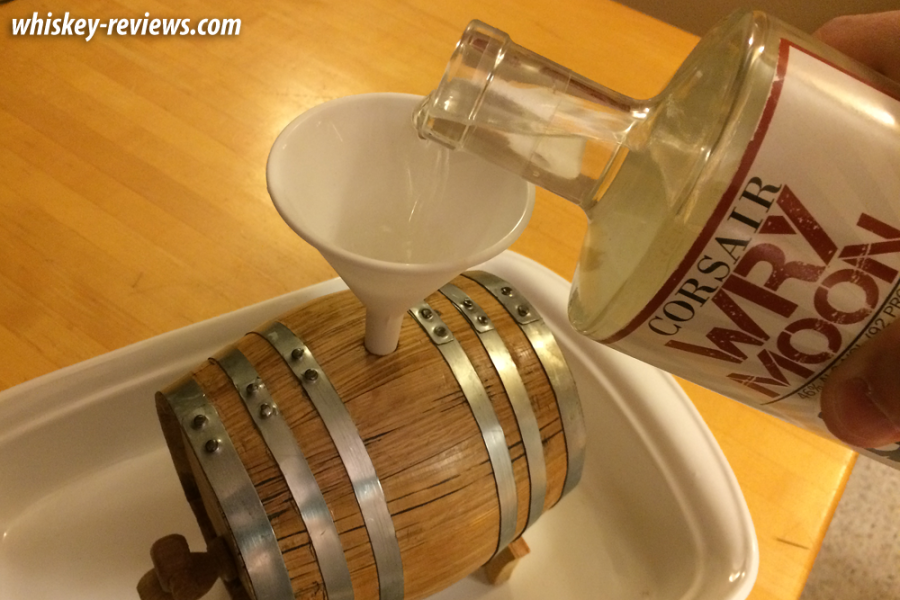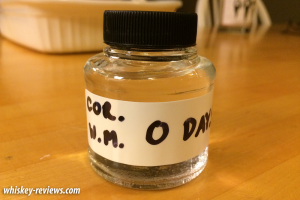 First of all, I am not a scientist.  This "experiment" is not really an experiment – I'm just a whiskey enthusiast with a mini barrel and some white dog.
Now that we have the disclaimer out of the way, let's get started.
My wife bought me a mini barrel from Thousand Oaks Barrels for Christmas this past year.  I have always wanted to play around with aging whiskey as the whole process (obviously) fascinates me.
The first step in preparing the barrel for aging spirits is to "cure" the inside.  Last Saturday (February 22, 2014), I filled the barrel with near-boiling water.  Next, I sealed off the bung and let it sit for a week.  This helps the wood in the barrel swell to prevent any leaks and limits the amount of alcohol absorbed in the barrel during the aging process.
While I let the barrel cure, I had to find the perfect new spirit to use.  If you've read some of my past reviews (here and here), you'll realize that I do not particularly like white dog.  I wanted to pick something unique, so I bought Corsair Wry Moon, an unaged Kentucky new spirit pot distilled from malted rye.  Corsair does some interesting things with whiskey experimentation, so I thought this was only appropriate.  This particular white dog is 92 proof, which I prefer over the lower proof choices available, as the whiskey should lose its potency over time in the barrel.  Since the barrel holds one liter of liquid (and it's wise to fill it up completely), I had to purchase two 750 ML bottles of Wry Moon.  For what it's worth, I decided to buy two bottles from the same "batch" – #51.
Now that I have my new spirit and the barrel has been cured, it's time to get started.  First, I drained the water that had been curing the inside of the barrel.  Next, I rinsed it out two more times with hot water.  Now the fun begins.
I fit a funnel into the bung on the top of the barrel, and began pouring the Wry Moon into the barrel.  After the first bottle was empty, I proceeded to pour from the second.  I was careful not to overfill the barrel.  Once the barrel was completely full, I removed the funnel and replaced the bung.
My goals for this "experiment" are as follows:
Determine how long it takes the whiskey to mature to my tastes.  I will do this by sampling the whiskey from this barrel once every two weeks and writing a new post about it.  This will go on indefinitely until I feel the whiskey is aged to my liking.
Find out (generally) how the proof of the whiskey changes as it ages.
Determine the amount of whiskey gone to the angel's share.
Check back in two weeks for Part Two…
-Ryan