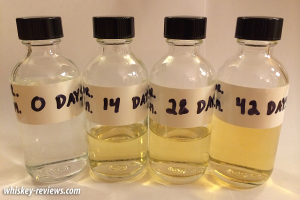 Day 42 of the mini barrel aging experiment has arrived. What started as moonshine on March 1st has been resting in a barrel for almost a month and a half, and the progress has been interesting.
The whiskey is slowly but surely changing in color and transparency.
The nose is very similar to two weeks ago, while it continues to pick up characteristics from the charred oak.
In the mouth, the whiskey is starting to get a nicer mouthfeel, although it's still untamed and youthful in spirit. Still lots of grainy wood chips and plenty of rye.
Afterward, this whiskey is starting to develop a nice finish, with a touch of smoke. I can see this whiskey going places.
I am finding that reviewing in two week increments just isn't long enough for the whiskey to change dramatically. Therefore, I plan to wait until Day 98 (June 7th) until I sample again. Stay tuned…
-Ryan