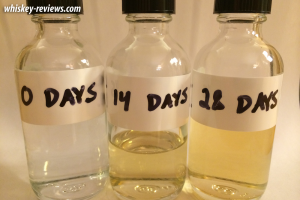 Nearly a month has passed since I started the mini barrel aging experiment, and the whiskey has certainly changed.
Since two weeks ago, the color has altered slightly. It is now a little bit darker and denser, although it's tough to tell in the photograph. For the most part, it's translucent, but it does have a slight cloudiness to it.
On the nose, this whiskey is starting to develop further and continuing to pick up notes from the oak barrel. However, it is still incredibly young. Hints of charred oak are surfacing, and I continue to get green apple as I did in my last post.
Once again I am getting high alcohol in the taste, followed by the distinct flavor (although I've never eaten them) of wood chips. The grainy rye is still very evident; it's spicy in a good way. It's beginning to get a little smokier, especially as it leads into the finish.
The finish is pretty lengthy, but nothing remarkable yet.
As difficult as it is to be patient when aging whiskey, it is clear after two samplings that this stuff needs significantly more time in the barrel to mature. Once again, we will wait another two weeks and see how things shape up on Day 42.
-Ryan