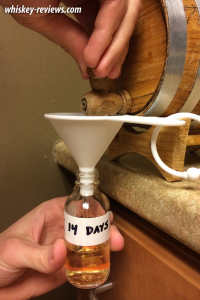 Two weeks ago, I wrote Part One of this experiment.  In that post, I outlined my thoughts behind maturing whiskey in a miniature barrel, including picking a worthy new spirit (in this case, I chose Corsair Wry Moon).
Two weeks later, we're ready to sample what's been maturing in the barrel.
After pouring roughly one fluid ounce into a sample container, I poured just a little bit into a Glencairn glass for some closer observation.
The color is about what I expected it to be.  It's like a very light chardonnay, translucent, with just a hint of cloudiness.
On the nose, it's still very young (as expected).  The white dog has been mellowed slightly by the oak, but this stuff is very much still Wry Moon.  After swirling the spirit in my glass a little bit and letting it breathe, I get a much sweeter nose with hints of green apple.
The first thing I get after taking a sip is wood chips, followed by the intensity of a very young whiskey.  This two week old rye is earthy with a bit of rye spiciness and a subtle hint of charred oak.  Then "poof", it's gone, and Wry Moon is back in its unaged glory.
When it comes to the finish, I wouldn't say it's much more mellow than two weeks ago, but it's certainly different.  Again, I get a distinct flavor of wood chips.
This is about what I expected for the first sampling of this whiskey as it matures.  It is on its way, but needs significantly more time in the barrel before it can be a drinkable/enjoyable whiskey.  The good news is that there is nothing dramatically wrong with the whiskey thus far (no negative effects from the barrel).
We will re-visit this experiment in two more weeks for Part Three!
-Ryan